January 26th-28th, 2018
3rd-6th graders are invited to join us at Thousand Pines in Crestline for an unforgettable Winter Camp!

Thousand Pines Winter Camps treat your kids to a high-energy weekend filled with fun games, exciting adventures, and an opportunity to meet Jesus. Your kids will experience musical worship and contagious teaching that will keep them on the edge of their seats as they get into the Bible.

This will be a weekend to grow in community and in relationship with Jesus. We hope to see you there.

The cost is $270.00 which includes housing, 6 meals, transportation and activities.
**Please note that we will be leaving the Coast Hills Parking lot at 2:30 and your child will need to be at church by 2:00pm.
Space is limited. You will be able to register as long as spots are available, or no later than January 15th.

WHAT TO BRING:
Your preteen will need to bring the following -
-Pillow
-Sleeping bag
-Toiletries
-Towel (if your preteen will want to take a shower)
-Bible
-Notebook
-Pen & colored pencils
-Flashlight
-Pajamas
-Warm clothes (pants, jackets, close-toed shoes)

MORE INFORMATION:
You can email our Karen Colston at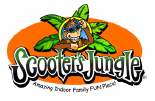 PreTeen families, join us at Scooters Jungle Friday Night March 9th from 6:30 to 8:00pm for a bouncing good time. Grab a pair of socks, and ten bucks and join us for a night at Scooter's Jungle. This is the one time throughout the year that you can run and jump on anything you want and you will not even get in trouble for it. Come and enjoy the zip line, the forty foot slide the bouncy ball room and many other things as we hang at Scooter's.
Do not forget socks, $10.00, money for snacks and the required waiver that your parents MUST sign.