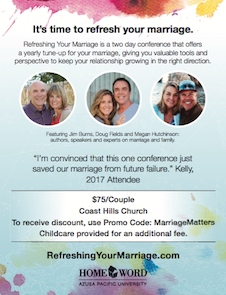 RYM: Refreshing Your Marriage Conference
Friday November 2nd - 7:00pm to 9:30pm
Saturday November 3rd - 9:00am to 12:30pm
This is a two-day conference for couples offers a yearly tune-up for your marriage, giving you valuable tools and perspective to keep your relationship growing in the right direction.
Featuring Jim Burns, Doug Fields and Megan Hutchinson: authors, speakers and experts on marriage and family.
Discounted cost for Coast Hills Church is $75.00/Couple. In order to receive this discount, use promo code MarriageMatters when registering.
Register for the Marriage Conference
Childcare
Childcare will be available for Refreshing Your Marriage 2018. There is a cost of $30 for 1 child, $40 for 2 children, $50 for 3 or more children. This will cover both days of the conference. All children must be four months or older.
Please note: If you are registering MORE than 1 child, when you get to "Step 1: Choose Registrants," please select ONLY ONE of your children, then click CONTINUE.
If you click on more than one child, you may be incorrectly charged, so please be sure to only select one child in Step 1. Once you are in "Step 2: Event Registration," you'll be able to register ALL your children by following the prompts.

Register for Childcare
---
PRE-MARITAL COUNSELING

PREPARE is for any pre-married or newlywed couple seeking to establish a solid foundation and build a framework toward a healthy marriage in a couple-to-couple mentor setting. Time commitment varies but on average requires a minimum of eight sessions over a period of four months.
---
COUNSELING (Intervention/Recovery)

Offsite by appointment

Trained lay counselors provide support and biblical counseling to adults experiencing difficult times. Through one-on-one counseling, healing is made possible for those hurting by providing a compassionate ear and Christ-centered care.